Professional guidance every
step of the way

.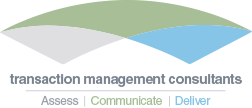 What Transaction Management Consultants Pty Ltd Will Do
Assist in initial assessment of the opportunity in conjunction with your specialist sales broker
Assist in initial contractual negotiations and manage any re-negotiations required as a result of due diligence or valuation outcomes. We will communicate with your sales broker as part of this process.
Where applicable assist in convening the initial partnership meeting
Provide regular updates to the buyer / buyer group
Assist in convening and chairing an initial purchase and advisor meeting as required
Co-ordination of communication between purchaser and/or partnership entities and their advisors
Advice and guidance in respect of transaction structure and entities including appropriate complying structures for Self-Managed Superannuation Funds (subject to independent advice)
Advice and guidance in respect of the engagement of suitably qualified industry professionals
Management of the due diligence process with your lawyer and accountant
Co-ordination of documentation
Co-ordination of the finance process in conjunction with Mike Phipps Finance
Co-ordination and management of equity contributions
Assist in identifying suitable staff (as required)
Assist in introducing the purchasers to experienced industry operators and consultants as required
Download a printable version
You can download our brochure as a printable PDF for future reference. Click here to access the PDF document.
What Transaction Management Consultants Pty Ltd Will Not Do
Provide investment advice
Provide taxation advice
Provide legal advice
Proactively promote any investment opportunity
Conduct formal financial or legal due diligence
These processes will be undertaken by independent industry experts engaged by the client.
Please be aware that in offering this service Transaction Management Consultants Pty Ltd makes no undertakings or warranties as to the ultimate outcome of the intended purchase process or the performance of the business post settlement.
It is important to understand that services offered by TMC Pty Ltd do not take the place of or constitute formal legal and accounting due diligence or formal valuation of the asset. You should engage these services at a time appropriate to your situation. Your bank will instruct a valuation report. TMC Pty Ltd can make recommendations in this regard. TMC Pty Ltd is not a sales agency. We strongly recommend that you engage with an industry expert sales brokerage in order to access opportunities. TMC Pty Ltd and its directors are not financial advisors and do not hold an AFSL.
Insights, Opinions & Editorial
Some years ago accommodation industry professionals Tony Rossiter and Mike Phipps saw a need to create a process to assist buyers in ensuring that the assessment, negotiation and purchase process runs smoothly.